A continuation of the wildly successful best seller "Her", Pierre Alex Jeanty brings explosive emotion to "Her 2". This celebration of femininity and self-love also explores the woes of love. He offers warnings of the wrong types of attraction while encouraging healthy, fun, and devout relationships of the purest form. "Her 2" tugs at the heart strings using short sentiments and vivid, poetic imagery that echo through the chambers of the heart and mind. "Her 2" is sure to be a classic poetic masterpiece for years to come.
---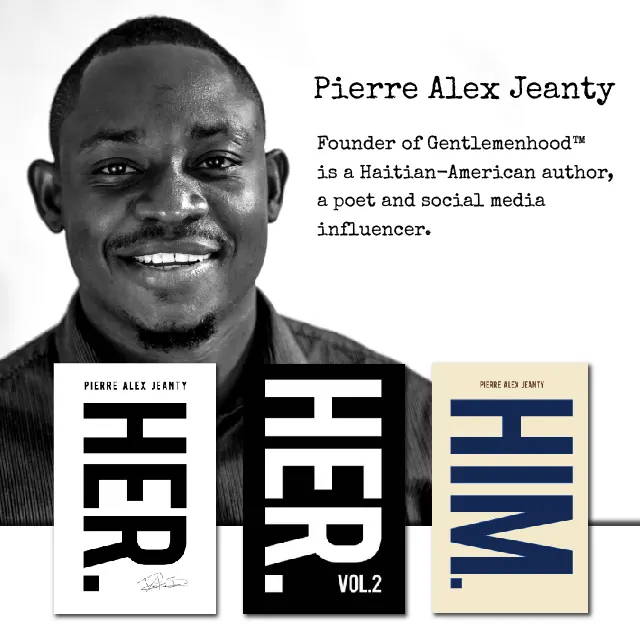 Considered A Love & Poetry Expert
I have 8 books out and four more being written. One of the things I do is cater to my audience. I'm always looking for how to inspire them and how to motivate them. Some of (the books) are small. That's why I consider them quotes and modern poetry.
My "HER" and HIM books are small thoughts for you to marinate or apply or reflect, whatever it may be. My first book, a lot of women read it and were like "I kinda got an insight of what it feels like to be a man like you in a relationship," and from there the question was: "Well, what about us?" We want books from a woman's perspective."
Join Our 170,000+ Readers Who Are Loving Her Vol. 2
Hear Testimonials From Our Poetry Stars
Words of truth and wisdom.

The photo pictured is one of my favorites as I am an adult survivor of child abuse & trauma,

I read these words and know I am a Life Warrior!! I am worth it
It's a great read for helping women learn how to love on their self & & that they are important & that they matter!
This Book Literally says what i feel as a women!! It's so bold, true and freeing to just read the words!
Let Our Customer Speak For Us
More Products To Choose From